The goal of this guide is help new players, understand the concepts of competitive file building.
In this guide I will build step by step a simple Wild Dogs file. Wild Dogs are ideal because 2 of them can be found in the Lawtia starter and their tribe buffer Black Hound Master is a common card.
1. The first step in file building is to determine the general file type of your file. We want to use Wild Dogs and most Wild Dogs related units are lvl3 so our file is going to be a lvl3 lawtia rush file (similar to the starter). Generally all competitive Lawtia files run 2-3 Shade and 1 copy of Death's Embrace and Bitter Destiny. Now that we know the file type, we need to decide the open unit (the unit you will always set at turn 1). Shade is the most popular lawtia open so we will choose Shade as our open unit. We now have the following: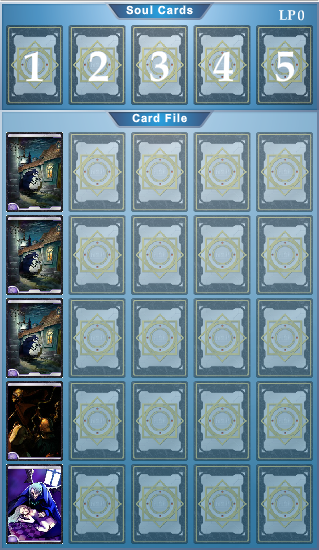 2. Most lvl3 rushes usually open with a lvl3 free revive unit or a lvl3 that won't easily die. This is important because of the SP flow. If your lvl3 unit that you drop turn 2 dies and requires SP to revive you won't be able to set a lvl3 unit next turn. That is why we are going to add 3 copies of Hell Smoke. Hell Smoke is technically not a free revive, but with it's Refresh skill it doesn't require SP to be revived. After the second iteration the state of your file is the following: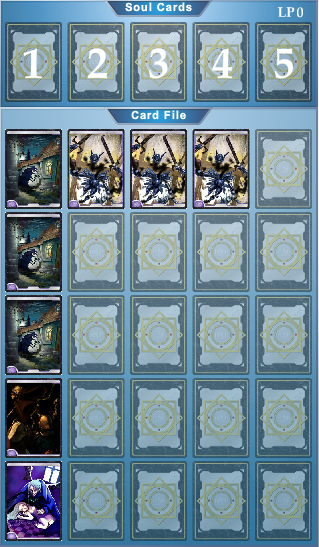 3. The 3 main units are Shadow Hound, Magic Doll -Lycanthrope- and Black Hound Master (you could add other Wild Dogs like Black Hound or EX: Lycanhtrope [Fenrir] if you have them). Because they are the main units you will want to have 3 copies of them. So after the third iterations we have the following:
4. Now in this iteration I will add some additional units that have a synergy with our file. We already have 3 RNG1 units so we will need an unit with RNG 2 or higher, so I will add 3 copies of Augmented Sorcerer. Her open skill works with Black Hound Master's auto skill and she has a grimbane double attack for 1 SP.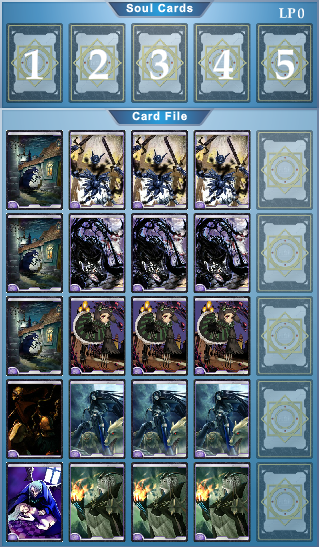 5. We have 5 spaces left now. You could now add more cards that have synergy with your file or add tech units that will help you in certain match ups. First we are going to add a Copy of Salamander, why because you don't want Falkow files to generate SP and it can sometimes help you to bring 50 HP units to 40 HP so your Soul Skill will finish it off. Next we need something to help us deal with Big Units or units with a lot of DEF. For that I will add 1 copy of Warning Knife or if you don't have it a copy of Corruption.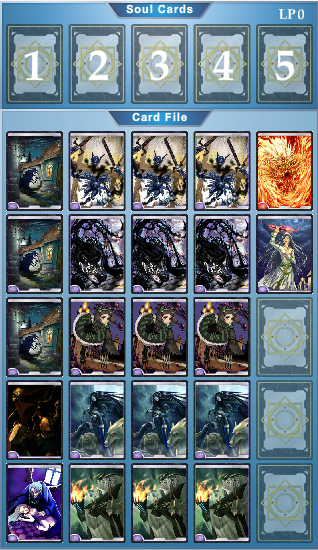 6.The amount of LP for a rush file is usually optimal at 7-9 LP. You don't have to use the soul skill line up I used her, you can experiment and see what fits best your play style.
Now it is time to choose our soul skills, as first soul skill you want to use a soul skill that deal dmg and gives you SP or reduces the SP of your opponent. Soul skills of this type are the perfect fit for your file, because you want to be aggressive as much as possible and accelerate your own or slow down your opponent. A good common soul skill that does is Crest Sabotage Knight. As second soul skill I will use a dmg soul that will keep up the pressure on my opponent. A good ss for that is Volcano Wyvern. As third soul skill I will use Assassin, because Warning Knife might not be enough to deal with Bigs. As 4th ss I will use a 20 x Lawtia Sphere dmg ss and as last Soul skill you should use a 3 LP that won't hurt your file that much, a good one that you get with the starter is Leviathan.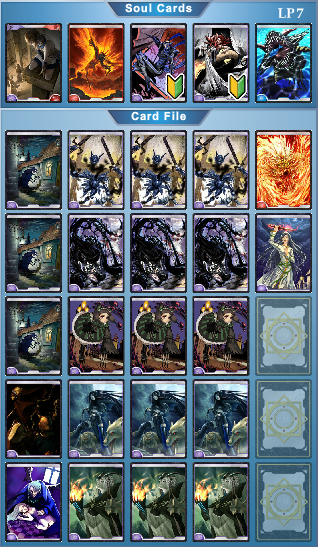 7. If you still have space. For the 3 remaining spaces you can add anything you want that will help either help your soul skills to trigger properly or cards that will help you against certain match ups. I will add 1 Crest Spy as tech against Bigs, 1 copy of Consuming Grudge to help the timing of my Assassin and 1 copy of Exchange of Souls.