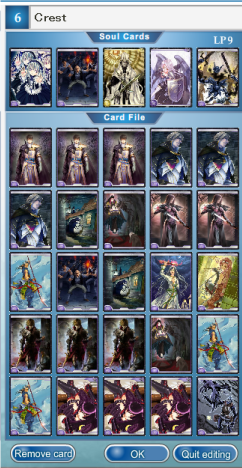 Hello guys. I pulled 3 Afeemina earlier and wanted to make a file revolving around her. My attempt in making a crest deck was kind of bad though. I tried many things like 3 crest greatsword soldiers, but i found that my units are either too slow to attack or too fragile to take hits. I really want to make a competitive Duchy of Crest file, I was wondering if you guys can give me your opinion and advice. Im more used to rush decks with very little cost, medium builds like this are kind of confusing for me.
Soul 9:
Magic Doll Mini
Angry Mob
EX: Judge of Heretics Bardia
Moon and Soul Norweiden
Hell Smoke
Units:
Grade 1:
Shadex2
Grade 2:
Crest Ranger
Guard Captain/Afeemina x3
Crest Orderly
Angry Mob
Grade 3:
Crest Lady Paladinx2
Crest Paladin x3
Crest Halberd Soldier x3
Grade 5:
Crest Devil Knight x3
Veteran Crest Slayer x3
Grimoirs:
Soul Pact x2
Warning Knife
As you can probably tell, I havent been playing alteil for a looong time and have no idea on what the meta is. I dont know what tier Crest decks are, but I dont really mind. I want to see this through. Any advice would be appreciated.