Let's learn about osu!
osu! is primarily played using a mouse to click 'beats' displayed on-screen in time with the music. This is analogous to tapping the beats on the Nintendo DS screen with a stylus. At the top of the screen, a health bar is present, which is constantly drained. If the player hits or clears a beat, the health meter at the top of the screen fills slightly. If he misses a beat, a large part of the meter is drained, and if it gets completely empty, he fails the song. There are three types of beats in the game: Hit circles, sliders and spinners. Every time the player hits a hit circle or an end circle, touch a slider tick, or clear a spinner, the combo is raised by 1. If he misses any of the above, the combo is reset back to 0.
If you guys happen to play it, add me as friend, ok ?
I am alvisto, and I would log in Osu! almost everyday !! Or leave your username, I will add you instead !
Screenies :
Main Menu
During a game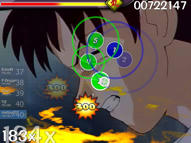 Beatmap editor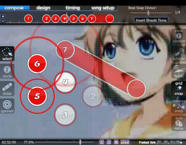 Multiplayer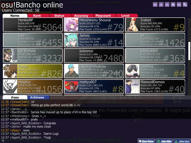 Sample video, featuring carameldansel
http://www.youtube.com/watch?v=ye48znmnrHQ
Another sample video, featuring Hare Hare Yukai, an ending song of Haruhi Suzumiya Anime
http://www.youtube.com/watch?v=QLz7Iyr7vpg
My ranked beatmaps :
Valkyrie Profile Battle Theme
Final Fantasy 8 Battle theme remix