TrueGodChurch
is an unique and EXclusive subtype to Alteil. I've been playing it ever since Raste made its appearance.
Let me introduce the subtype before i make any suggestions:
________________INTRODUCTION TGC___________________
A rush-based Refess clan that -instead of reaching saturationpoint by snowballing more Def Atk or Agi on the field- can reach high numbers of MaxHP!
Very refreshing and fitting for a Tribe of mostly Priests. They just aren't natural attackers. They are healers. Even Martial Artists only have 25Atk & 2~3Agi.
The highest Attack for a TGC 'offensive' unit came out in Set10: a 35Atk Martial Artist! But current support won't allow Martials to snowball into a saturationpoint. Without a saturationpoint on their relative low base Atk Def & Agi it's not viable on its own yet, but they can serve a purpose within TGC files.
But one can't live on raising HP alone.
You got to survive the ever growing damage potential of other tribes, occasionally even kill threats. For that it's accompanied with a set of tricks.
Revive & Agi+Atk boost (Gilensa), Rng manipulation(Fortune, InquisitorNightRaider, Abel), +30Def openskill(ChurchPalladin), counterattacks(Cudgel, LadyMonk, ExCynthia, Gravan), and a few specialized lethal Skills. (Cudgel for Bigs, Monk&Gravan for Undead, Raste pinpoint)
______________________________________________________
____________________TGC PROBLEMS_____________________
- SP Management.
In practice this means to keep up defense, you need SP for Skills. Lots of it.
Building a field keeping 1~3 spare SP hanging around means TIGHT SP management for a rushfile. Entering a turn without SP = No Revive / Raste Kill (or Heal) / GirlCombat Heal / etc. This could turn against you. On the other hand constant use of Skills stops your progress...
You're forced to make lots of crucial descisions. This problem doesn't make it unplayable, but defenetly an advanced Tribe to play.
- Stats distribution.
They're not fast, they're not strong... nothing excells at what it's supose to do. They all start as averidge nobodies. 45HP, 25Atk, 3Agi, 0Def.
You have to reshape many into the role it's SUPOSED to play. Problem is there's only 1 Gilensa to do it...
______________________________________________________
____________________TGC SUGGESTIONS__________________
Like on most Refess units, i prefer a fair distribution of stats where they NEED IT.
You don't give ATK to a Rng1 Support. If something needs to go first to function, you give it Agi. If something needs to support or tank, you give it HP. Etc.
Sounds simple, right? Right...
Global Fixes:
Bash[1SP] --> Do [Damage : Atk] to and render engaged random
DISENGAGED
enemy unit in range.
Shieldbreaker[1SP] --> Set random enemy unit within range
and Def 1> or higher
, to Def=0 and do [Damage : Atk] to that unit.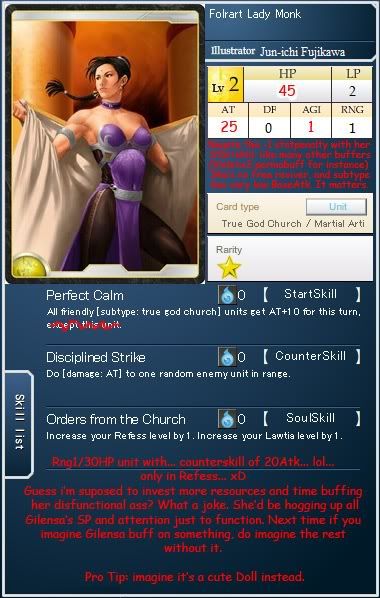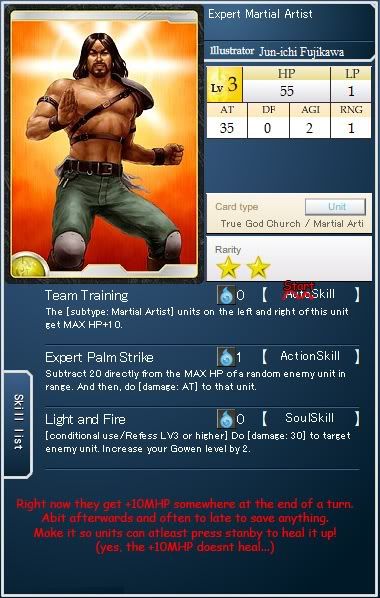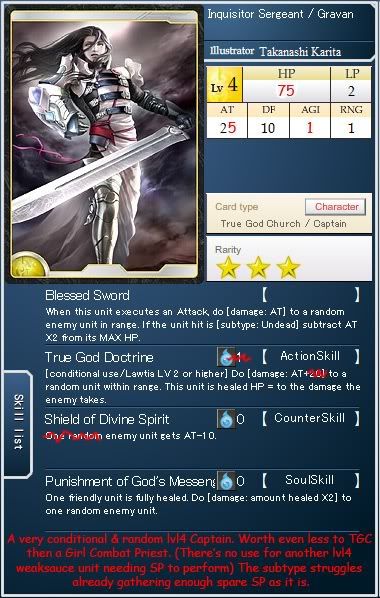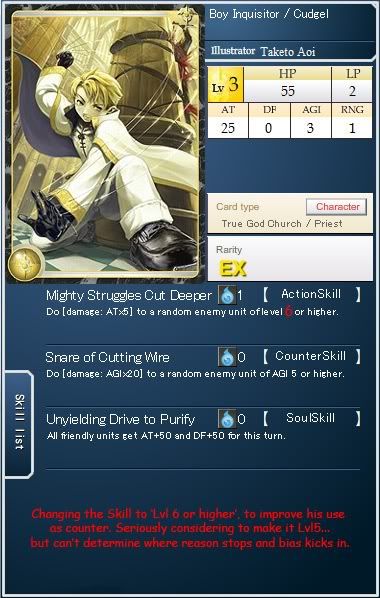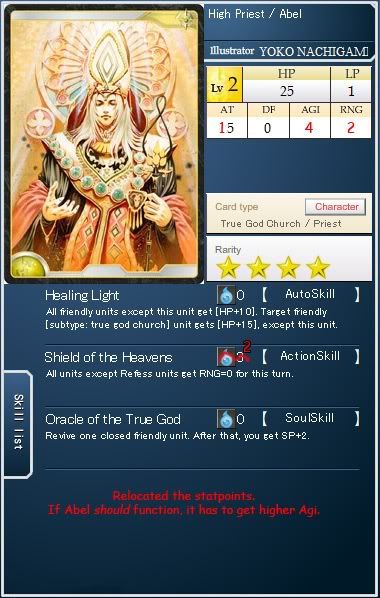 -->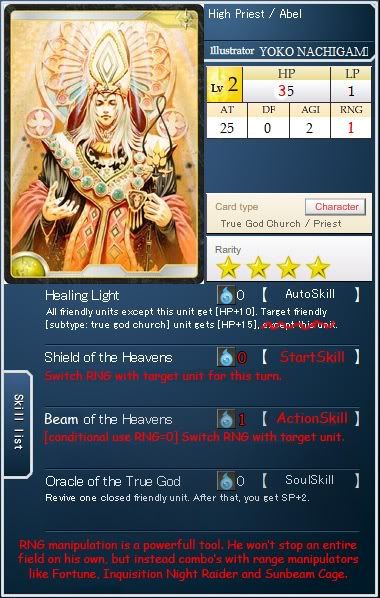 I begun to doubt fixing Abel's original Skill. Imagine him actually working: giving Rng=0 over and over and over... How frustrating would that be??
On a Grim it's fine, but a properly functioning Abel may go on for the entire match.
So i give him more combo potential. Fortune, Sunbeam Cage, InquisitionNightRaider, ExGarfath, Gigantic Illusion. He's there to compliment those exsisting methods. Just let it sink in for a moment... switching Rng at Start, and if Rng=0, make a permanent switch as Action. This should keep things fun to achieve.
**reserved for future ideas**