I was really hoping that one of our better players would do this.
Poison Lover / Rosetta
Card type
None / Royalty
Rarity: EX
LV: HP: LP:
03 50 02
AT: DF: AGI: RNG:
00 00 04 03
Price of Ultimate Evil 0sp No unit card in your Card File may be set next turn.
Cleansing Tonic. Soul 0sp Two target units get AT+20, DF=0, AGI-1, and are poisoned until the end of next turn.
Sorry, My Dear. 0sp Target Poisoned unit of LV 2 or lower gets HP=0.
Lady Demon. 0sp Choose one disengaged enemy unit. Do [damage: that unit's AT] to target friendly unit. Engage the enemy unit.
Virulent Poison. 1sp One unit gets AT+20, AGI-1, LV-1, and is also Poisoned until the end of next turn. If the unit selected is friendly, you get SP+1.
Suggested file.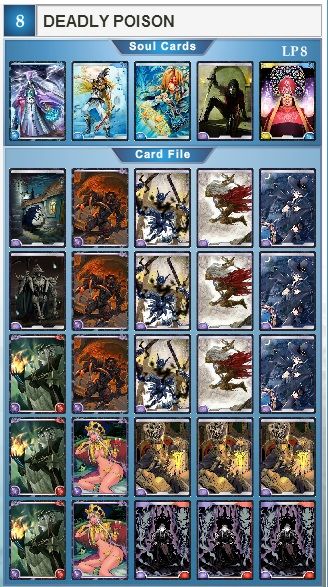 The idea was to have a strong defence and units that could take a hit from her very useful Lady Demon skill. At 50 health she can also take a slight knock, but it is hard enough anyway to keep her alive until you trigger Sorry, My Dear. Virulent Poison can work well on either your own or opponents units. Nice that spirit witch can set up the gowen level for augmented sorcerer, and when they enter the fray you can start taking down big stuff with your halitosis grims. Ok so zombie lord is a bit tacked on and I do always groan when players drop him. To be honest the constant dredging up of old corpses is the winner here, and I do find playing against such files demoralizing.This was a good file however it won and my most successful poison file. I did try her with 6th Heaven Devil / Shvara, but it didn't work out too well. As for the souls? I did put BKR in the first slot, but it didn't seem to work on all my units and only grave me plus 10 attack?
Replay>
https://alteil-login.apocoplay.com/audi ... 08a48952fa
I had to take my hat off to this guy. Does something I always thought about, but did it nearly to extreme!
She is a great addition for the poison mechanic. I found her interesting to play, but got a feeling she just lacked a little. Until I thought that maybe in the future she will be complemented by other cards.